If your model train motor needs rebuilding, the Doc can help. All pre and post war motors for Lionel, American Flyer, Ives, Bing and others can be rebuilt and made to run like new.
Save yourself the trouble of trying to find a rare replacement motor. If you have the intact armature core, the Doc can rebuild it for you for a very reasonable fee. Usually half of what a replacement armature would cost.
Symptoms of a problem armature
Your model train motor not operating the way it once did? Here are some signs that your motor may need to see the doctor for an armature rewind:
The motor runs very hot and slows down after a few minutes of operation!
The armature wires will look dark in color relative to the other windings on the armature. A sure sign that the armature has been damaged.
The field winding is getting very hot too. This means that the current flowing through the series circuit made by the field and the armature has a very low resistance. This is another sign that the armature has a problem. Note: rarely does the field winding go bad. When it does, you will know it!
Lots of sparks coming from your brushes
If your brushes are giving off a lot of sparks, this is an indicator that one of the armature coils may be open circuited.
Severely worn commutator
A severely worn commutator is a result of long-term wear due to heat and arcing. A great deal of arcing is a result of higher than normal transformer voltages used as a result of a poorly performing train motor. The greater the resistance, the higher the transformer voltages needed to operate the train.
The commutator seen in the picture below (Left Picture) has a commutator that is very badly "glazed" (RIGHT) by using too much lubricants over time. The oil is vaporized and "baked" to the commutator surface. This greatly lowers performance. The armature on the (LEFT) shows a commutator that is clean and shiny. This is the way your commutator should look like after a tune-up.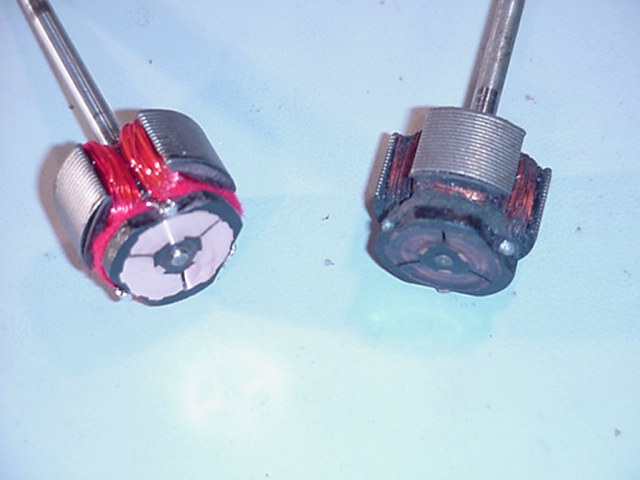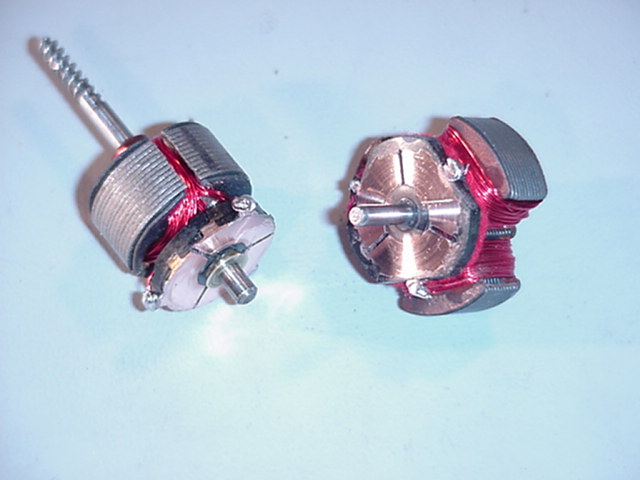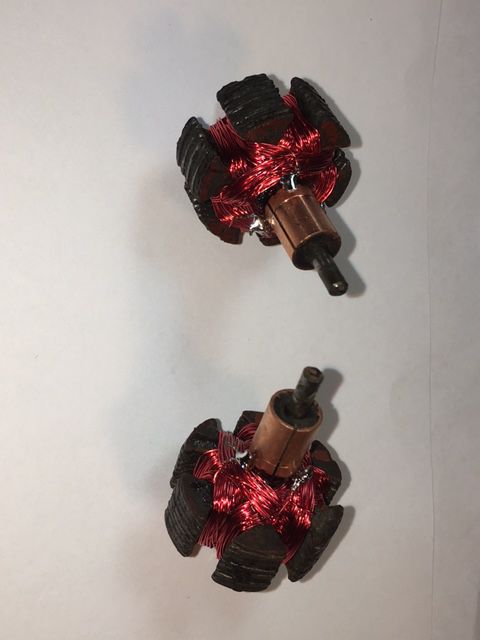 Armatures rewound by the Motor Doctor - Lionel post-war, American Flyer/Lionel and Lionel #33 pre-war